Utility and decentralized payments
Metrix is a digital currency that focuses on bringing ease-of-use to the forefront of the Digital Asset age - We build products that focus on utility, as well as making it easy for the Vendor to be able to accept payments, no matter what business they run.
Dedicated Applications
One of Metrix's core foundations is building applications that are made specifically with the use of Metrix in mind. We have created multiple applications that focus on Metrix's key features, and we actively encourage and assist new developers entering the space to create real useable applications powered by Metrix.
Engaging Community
One of the things we pride ourselves on here at Metrix is our dedication toward building an active, informed and engaged community. We have involvement from community members through all steps of our process, from utilizing community ambassadors for local outreach to operating community voting for upcoming changes, products and projects -- Being an active member of the Metrix community pays
01. Features
Let's Talk Product
The things that make us unique
A scalable, flexible digital asset
Metrix was designed to be a completely flexible, easily scalable digital asset that can be used in a multitude of applications. With fast blocktimes, instant TX features and it's own payment processing app, Metrix can power any storefront, anywhere.
Easy, Secure, Proof of Stake
Metrix incorporates PoS into its everyday use in multiple ways. We believe that It's important for each user that holds a wallet to contribute to the network. This keeps TX's fast under any load and provides rewards to every holder. The Metrix team has created many applications to aide in making full use of Metrix's PoS consensus model such as: MyStakingWallet and Altitude, our lightweight electron wallet.
Powering multiple applications
Metrix was built with flexibility in mind, and that's why our team has developed multiple applications featuring Metrix -- We build these to show how versatile a digital asset can be, from being a passive income generation tool, to paying for your everyday goods and using it to bet online Digital currencies can do it all and we're here to prove it.
Our Mission
Our mission is to produce quantifiable utility for those contributing to the Metrix blockchain. Through applicable products and services, the Metrix Network continues to grow and prosper. Our modus operandi will always be to isolate real world issues, provide solutions, and enhance lifestyles.

02. Our-Team
Together, We Create
Meet the individuals that together make this business a success, but there are also those not featured here which includes "you" the community. Click the link below to view the full team.
We're Hiring!
03. Roadmap
Implementation Sheet
Our Accomplishments
Finished
Work in progress
Scheduled
Scratch/Removed
Exchange Listing Barter Trade
Exchange Listing DigiFinex
Exchange Listing WhiteBIT
Exchange listing AltMarkets
Updated MSW to the new chain
Chain Swap (QTUM Fork) Complete
CEO Monthly Update [video]
Build the Ambassador Program
Introduce Think Tank Thursday
Start MRX & BTC Community Donation Accounts
Updated Altitude Wallet with the Governor
Partnership AFRO Foundation & ELYA Coin
AMA Sessions with 9 AMA Providers
Hire new team members across all departments of the project
Publish Medium Articles on Media Watch, Yahoo News, Yahoo Finance, Yahoo Business as well as 73 other major publications
Update the official Metrix Team website with new chain specs, updated team, partnerships, Metrix Academy, Donation address and QR codes, and general user interface
Start out Facebook and LinkedIn profiles.
Build the Metrix Coin Paper Wallet Generator
Integrate digitizing fiat currencies through digitized money machines using MRX as a payment system.
Integrate ELYA TEL partnership for telecommunication
Update MSW with new coin projects
Introduce a very large use-case partnership with an A.T.S. company, Italy
Start the integration with Partner's clients
20-Year Reward Plan - Deflationary Model
Secure Blockfolio Signals
Influencer Video Reviews on Metrix
Propose a new team treasury plan
Capital Raise to list on top Cryptocurrency Exchange
CEO Monthly Update [video]
Jude Newcomb's "The Week That Was"
Secure a Gambling and Gaming Global Licence
SEO of Metrixcoin.com (ongoing)
Partnership with merchants (WG Whale Trading)
Introduce new use-case partnerships
Expand our Network of Ambassadors
List on a decentraliced exchange (DEX)
Integrate Point of Sale for Merchant accepting MRX
Wrap MRX using ETH bridge
Instant transactions (through CoinsPaid)
Wrap MRX using BSC bridge
Introduce Merchants to accept MRX
Produce Blockchain Chronicles Series
Submit listing application to list on a top 20 exchange
Buy.Metrixcoin.com website
Update MSW & User Manual with Buy.Metrixcoin.com
Open VIP Discord room for 100M MRX Holders, 50M MRX Holders, 25M MRX holders and Governors
Publish Medium Articles on Media Watch, Yahoo News, Yahoo Finance, Yahoo Business as well as 73 other major publications
CEO Monthly Update [video]
User Interface upgrade MSW
User Interface upgrade MNP
SEO of Metrixcoin.com (ongoing)
Influencer Reviews on Metrix Coin [video]
Introduce new use-case partnerships
Submit a Listing Application for a top 20 US Friendly exchange
AMA's with large communities
Create a Metrix Relay Network
Launch Podcasts (Apple Music, Spotify)
Add Liquidity Pool InfinityCrypto for MRXb / SHARD
Add Liquidity Pool InfinityCrypto for MRXb/BNB
Add MRXb / MRXe InfinityWallet
Create MetriMask Light Wallet
Partner with Virtual Reality Company using MRX
Jude Newcomb's "The Week That Was"
Add Trustpilot reviews to the website
Go Live US compliant large Crypto exchange
Redesign Metrix Pitch Deck
Increase Social Media followers and engagements
List MRXb on a Central Exchange
Publish editorials in major Crypto publications
Publish Medium Articles on Media Watch, Yahoo News, Yahoo Finance, Yahoo Business as well as 73 other major publications
Online Poker Tournaments (MRX)
Advanced Development of NFT platform
Create a VR display room for NFTs
Capital Raise for a Major US compliant Crypto Exchange
Jude Newcomb's "The Week That Was"
Establish TikTok Account and Presence
SM Giveaways and Contests
Publish Medium articles every 2 weeks
Launch of MetriVerse (NFT Platform)
Establish a Metroid Community Public Relations department
Accept MRX payments for MSW
Partnership with Skeletopia NFT
List on MultiChain Bridge MRXe & MRXb
AMA's with large external communities
Metrix Name Services Main Net
Crypto.com partnership
Non-Fungible WSG Player Cards
Some work in progress items
have been carried forward from 2022
Online Poker Tournaments (MRX)
Vendit Debit Card (Partner Pending)
List MRX on Coinigy (Partner Pending)
Advanced Development of NFT platform
Partner with a gaming company for WSG
List MRX trading pairs on 3 Commas (Partner Pending)
Jude Newcomb's "The Week That Was"
Create Dollar Decentralized Autonomous Organization (DDAO) (MCD)
Create MRXD Stable coin
(MCD)
Metrix AlarmClock (MAC) release (MCD)
Update MetriVerse (NFT Platform)
Create the MetrixCoin Scholarship for Metroid Community Developers
MetriMask Wallet for Android
Update MIP4, MIP5, MIP6 to Metrix Core Update 4.2
NEW
Create Metrix.Place (MCD)
NEW
Jude Newcomb's "The Week That Was"
Online Poker Tournaments (MRX)
Create Video Series/Walkthrough for NFT Creation on Metrix Network
Publish Medium articles every 2 weeks
Finalize Development of AerCrypt (Metroid Community Development)
MRX halving (10% to 5% rewards)
04. Products
Metrix In-house
Purpose Built Applications
05. Wallet
Metrix Wallets
For Everyone, For everything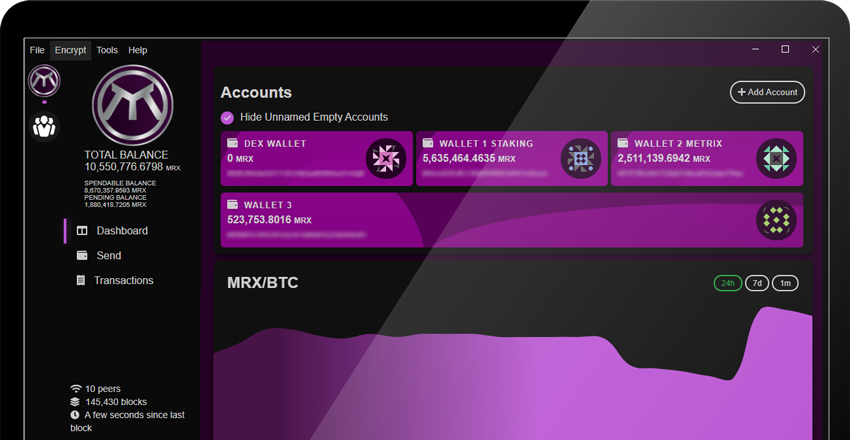 Below you can find our custom Altitude wallets built on Electron for all desktop Computers
07. FAQ
Frequently Asked questions
Your questions, Our Answers
Metrix is a cryptocurrency that has been hard-forked from the QTUM blockchain. It combines the best features of both Bitcoin's UTXO (unspent-transaction-output) and Ethereum's EVM (Ethereum Virtual Machine). It is a truly decentralized digital asset which is driven and guided by "governors". All governors hold a substantial amount of the coin (7.5 million MRX) locked in so that they can vote on proposals on the chain. This ensures all involved endeavor to get the best out of the coin and the community as a whole.
As a hard-fork of the QTUM blockchain, Metrix is incredibly versatile, and can be used for everything from everyday trading, to creating a token for your company, to generating NFTs.
Technical Specifications
Maximum Supply: 30 billion coins
Block Time: ~90 seconds
Block Size: 2 mb
Transactions Per Second: ~75 TSP; that's about 6000 transactions every 90 second block. This figure is over 10x that of Bitcoin and many times higher than Bitcoin Cash, Ethereum, Litecoin and Dash.
Fees: 10 MRX per kb; roughly 2 MRX per standard transaction.
Staking: ~10% per annum
Metrix can be found on multiple exchanges, for the most up to date list please refer to -
There are multiple solutions for storing and staking your Metrix. The primary wallet available for free is our Altitude wallet –
We also provide a service called My Staking Wallet which provides both a free (non-staking) and a paid (staking) online wallet. This solution enables you to stake without having your PC on 24/7, as well as the possibility of running various other coins for staking or masternodes. Please refer to the below website for more information.
Part of our mission is the goal of making Metrix a truly easy to use solution and to help onboard the public into our crypto community. As part of this we have set up the Metrix Academy. This can teach you how to set up your Altitude wallet, as well as various other items.
Follow the link below for some great instructional videos.
You can find a lot of the key updates and information coming out around the Metrix blockchain by ensuring that you follow and subscribe to our official YouTube channel. Make sure to turn on your notifications!
The Metrix team has been actively and keenly pursuing business partnerships to further the use case of our coin. We have multiple active partnerships which you can see via the link below:
Some more detail on a few of the major partnerships below -
ATS - Assistance Technical Service S.R.L
ATS is a company founded in Italy in 2003 as an Enterprise System Integrator. Thanks to their early appearance in the space, and a countrywide presence, they became an early leader in the supply of professional IT services for Telco and enterprise customers.
They have a headquarters in Rome, a laboratory and central warehouse, and points of presence across every Italian region.
Their work solutions range all the way from IP systems and security, consulting and design for disaster relief management and business continuity, and fiscal cash register development, installation and support services.
ATS Solution works with a large set of clients (around 200), ranging from medium sized businesses to enterprise level, and has a rough turnover of around 10 million USD per financial year (as per dun and bradstreet).
Metrix and ATS have decided to create a partnership with the aim of developing solutions for these clients to utilize our blockchain for a combination of payment and logistical purposes.
Afro-Foundation and ELYA coin
Another partnership Metrix has entered into is with AFRO Foundation and ELYA Coin, taking telecommunications globally and using MRX as the form of payment. AFRO Foundation uses the Vodafone network to ensure the highest quality of telecommunications, and they offer this to be anonymous through the purchase of their ELYA Coin. This strategic partnership will allow telecommunications on a global platform, and accepting MRX as the form of payment will propel Metrix into the telecommunication space.
Walter Groff Whale Trading
Follow a professional trader's entries, exits and trade management from start to finish. Walter Groff will advise when to get into a trade and when to be out of the trade. He will also advise if you need to make any changes once the trade begins. Each month the trading ledger will be posted so that you can keep a full record of all trade calls. Best of all WG Whale Trading accepts MRX for the minimal monthly service fee.
Metrix is a highly diverse and useful blockchain which could be used to help power multiple business solutions. If this is something you find interesting and would like to arrange a discussion with the team on how this might be done, feel free to contact our CEO Trent Richards via [email protected]
We intend for Metrix to be used in as many places a possible!
Grudge Match Gaming (GMG)
We developed our own eSports betting platform GrudgeMatchGaming.com where you can use Metrix to bet against other players and tournaments!
We did want to mention that on top of this GMG will be launching soon. With limited development time we have needed to focus on our core issues above first, but we do still see Grudge Match Gaming as a very important driver of volume. More Information on this will be released in the coming months.
MyStakingWallet (MSW)
There is a great benefit in using MyStakingWallet and we are hoping that the community will continue to support the service even now that the swap has taken place. There is less of a requirement to have a server running 24/7, however, a lot of our users are supporting the team and we will continue to support this service for as long as there is a demand.
One of our active goals is forever expanding our vendor pool!
- Are you a vendor and would like to accept payments?
We make it easy with MyStakingWallet! Contact us on Discord to learn more about our easy to use tools for merchants!
To give you an easily accessible and complete understanding of how well this project is doing, and what we have for the year ahead of us, we have put together a complete whitepaper. Follow the link, have a read, and feel the excitement currently fuelling the team.
No, the Altitude wallet has replaced the QT wallet since 3.2 - The QT wallet is slow and outdated, and this wallet is a much better fit. Try it! We're sure you'll love it.
Alternatively there is the online MyStakingWallet with mobile versions available.
Altitude comes with an automatic update feature. When a new update comes out you will get a notification and be prompted to update. You can also skip any update (Although you should always research if an update is mandatory or not)
Backing up your wallet on Altitude is **easy**! Simply go to File > Backup wallet Save it somewhere safe, save it often!
Yes coin controlling is still something that needs to be done on Altitude, how often is completely up to you and how many coins you have. It is best to keep your inputs over 100K each, but that is up to the preference of the user. If you wish to coin control it is simple, just go to Send > click on the Inputs button and select them all. Then paste your own address and send all your coins to it. This will combine all inputs into one 'package' or input.
Changing your language is very simple! Just go to File > Language and select one of our many supported languages. Notice an error in translation? We want to hear about it! Send us a message on Discord.
MetrixCoin is now available wrapped on the Binance Smart Chain (BSC) as MRXb, and also on Ethereum as MRXe.
Wrapped MetrixCoin allows Metroids to participate in BSC or Ethereum that exhibit decentralized finance protocols (DeFi). It increases the utility case for MRX.
In long, wrapped MRX is minted per 1 MRX, and unwrapped MRX means MRXb or MRXe was burnt for MRX. MRX that is to be wrapped is locked in a smart-contract, at Metroid's preference, either MRXb or MRXe is minted. When MRXb or MRXe is unwrapped for MRX, it is burnt for MRX, and MRX is released from the smart-contract and deposited to an MRX wallet address. Metroids may use MetaMask, Trust Wallet or Infinity wallet to set up either a Binance or Ethereum wallet address. See contracts for MRXb and MRXe. [Add smart-contracts for MRXb and MRXe]. When ready to swap MRX for either MRXb or MRXe, Metroids will need to register as the Vendor for wrapped/unwrapped MetrixCoin by visiting swap.MetrixCoin.com.
Disclaimer: Metroids will be responsible to pay a gas fee for registering as a Vendor. Once registered as a Vendor, an MRX deposit address is created. Metroids may deposit MRX to the deposit address and receive their wrapped MRX.
In short, for every MRX locked in the smart-contract, wrapped products are minted. And for every unwrapped MRXb or MRXe, it is burnt. The supply is maintained in which MRX:MRb or MRX:MRXe is 1:1. All transactions are auditable.
or any wallet that supports Web3
Metroids may provide liquidity in any of the pools involving wrapped MRX in any of the decentralized exchanges listed. We will update the Metroid Community as more pools and more decentralized exchanges become available for our wrapped MRX.
08. Other Pages
Feedback & Guides
Community Involvement, and Guides
Feedback
We want to know what you think! As we move into a new future where the community is directly involved in the decision-making process, remaining open to new ideas and suggestions is key to innovation and growth. That's why we created our feedback page where you can leave comments about Metrix, and all our affiliated products and partnerships. This is an open-discussion forum conversation where you can see what has been posted by others, along with the ability to comment on any post that has been created. The core team has the chance to hear directly from you on where you want to see the project move next!
Visit Website

Wiki Guides
Are you looking for guides on how to get started with the wallet or masternodes... There is a wiki guide built for that very reason. If there is anything that you become stuck on, then please visit the Discord for community support.
Visit Website
Testimonials
MetrixCoin was brought to my attention a few years ago. After reading their whitepaper I realized they have a solid team of people behind it and great long term plan. They are goal oriented and shatter expectations consistantly. I joined their Discord and found myself apart of a new crypto family.
There are a lot of coin options out there, I support MRX and its team 100% because of their ability to reach and smash these objectives. I proudly Stake Millions in my Altitude wallet and I can't wait to get more. Get on board now while the price is right!
Danny DiMarco
Read more
09. Metrix Academy
Videos
Learn how to use Altitude Metrix Wallet and other Metrix applications
10. Metrix Merchandise
Official Metrix Coin Merchandise
You can order Metrix merchandise products:
Simply click on the flag for your region and choose the merchandise that can be delivered to your area.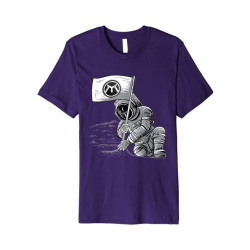 Metrix Astronaut Moon T-Shirt
Available for men and women.
The product is currently available in these locations:







11. Video Reviews
Reviews
Find public video reviews of Metrix
RichSkies
METRIX COIN POTENTIAL 100X GEM! (Majorly Undervalued) - Low Cap Altcoin Gem
Sky Crypto
Metrix Coin COULD EXPLODE! (100X POTENTIAL) - PoS Blockchain
Jimmy Hess
Huge Potential. Grossly Undervalued. Do NOT underestimate Metrix in coming days and weeks!
12. Donation
Metroids' Donation Address
Please help us and donate
At Metrix, we are always striving to achieve new heights through building our products and community. We can't do this alone and we are asking for your help!
If you would like to see more improvements then please donate to the team's donation addresses. All funds donated are on the public blockchain for all to see. The Metrix Coin address is a staking address where the community will also gain the added benefit of staking rewards on the donated funds prior to their use.
Please help us and donate to either the Metrix or Bitcoin addresses.
MRX: MPCFybXAo9XoiGbodjMkTnYLhBfoLkLHZQ
BTC: 3NhFKap8ZzKmPp5gANCZcZ9qnb7srZd3h4
BNB:0x733bb9631ddb38c03cb83551b7ebe8f3db1e08df
You may donate MRX to this address: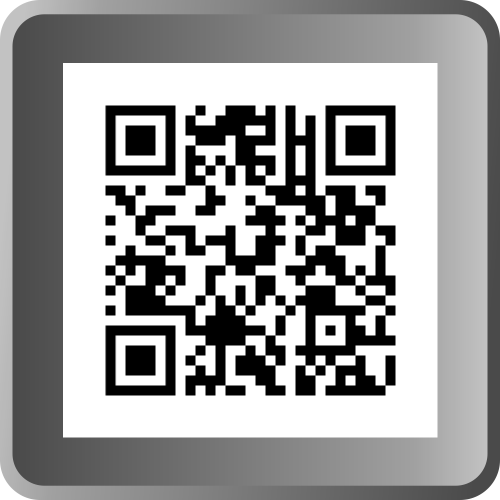 MRX: MPCFybXAo9XoiGbodjMkTnYLhBfoLkLHZQ

You may donate BTC to this address: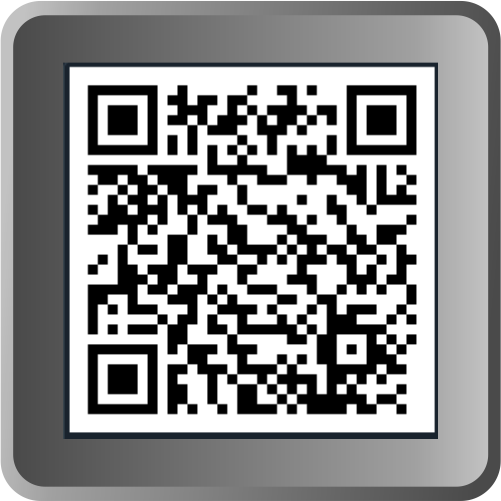 BTC: 3NhFKap8ZzKmPp5gANCZcZ9qnb7srZd3h4
You may donate BNB to this address: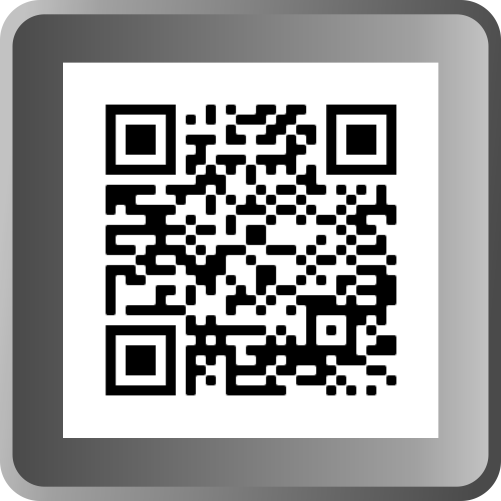 BNB: 0x733bb9631ddb38c03cb83551b7ebe8f3db1e08df
Get Notified
get notified about latest news and updates